Android O developer preview 3 rolled out earlier this week and brought several new and minor tweaks with it. Most notably, the Google Camera app includes some minor but pretty significant UI tweaks and a few new useful features.
The first change is an updated UI that makes it easier for users to jump back and forth between the photo and the video mode. Earlier, the UI consisted of two dots above the shutter button which changed the mode that the camera shot in.
In Android 8.0, a video icon is placed to the right of the shutter button when in photo mode and a dedicated photo icon is placed next to the shutter icon when the user is in video mode. The working is the same and the old UI still works perfectly but the addition of these icons just makes it easier to use for novice users.
Another feature added in Developer Preview 3 is a quick way to zoom into the photo while capturing it. Simply double tapping the screen will now zoom into the photo by 50%. Also, users don't need to pinch in and out to adjust the zoom as the double tap gives access to the zoom bar for quick refinements. This conserves a lot of time and these type of shortcuts just make the art of taking a photograph easier and quicker.
Secondly, Gboard has received some much needed update. Now, Gboard on Android disables keyboard suggestions when on Incognito mode in Chrome Dev. A device with Android O running Incognito mode will have Fedora and glasses appear on the keyboard. Also, Gboard will not remember the unique words that are normally typed. The regular version of Chrome in Android Nougat does suggest words in Incognito Mode. This is a very subtle and a great addition to Android.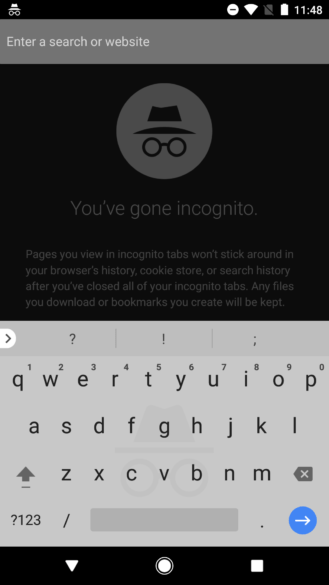 Sure, these features may not be significant overhauls but every tiny change enhances the User Experience and that is what Android O is all about.