Apple is all set to launch the tenth-anniversary iPhone this year. We have heard a lot of details about the cutting edge technology it is rumoured to bring along with it's $1000 price tag. Now, a group of analysts from Deutsche Bank are claiming that the iPhone 8 will not be able to break the sales records Apple set by the iPhone 6.
With smartphones growing powerful every year and lasting longer, the analysts do not agree with the sales figures put up by the Wall Street.
Apple products are always known for their high price tag. But $1000 is a lot of money for a smartphone and hence the demand will not rise as expected. Deutsche Bank believes that Apple will hardly sell 230 million units in the first year after announcement.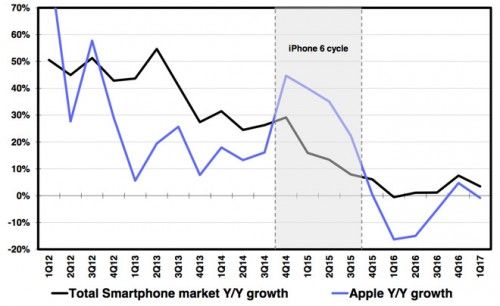 It is worthy to note that Apple sold 231 million units in a year following the launch of the iPhone 6. Apple has not been able to surpass this number yet.
Further, the smartphone market has slowed down in progress, showing lesser growth after 2015.
Apple has to check all the boxes in order to be able to make the iPhone 8 a massive success. Expectations are really high since this is the tenth anniversary of the iPhone and Apple cannot afford to disappoint.
The iPhone 8 is set to feature an all screen display with no bezels. The smartphone will sport an all glass body with the inclusion of wireless charging technology. The flagship is expected to come with a vertical dual camera setup on the back for Augmented Reality purposes. The front camera too is expected to pack advanced facial recognition capabilities.
The location of the Touch ID sensor though is not very clear. While some claim that the sensor will be embedded into the display, a few analysts say that the Touch ID sensor will be moved to the back.