AMD, as many of the Desktop PC fans know is the best alternative to the powerful Intel processors. But due to some heating issues reported in AMD Processor, Intel was the only best option. But AMD is back in the game with AMD Ryzen. The company claims it to be much faster than Intel i7 processors.
Today, the CEO of AMD, Lisa Su announced its next processor to compete with the Intel Core i7 processor. This processor will be powered by 8 cores and 16 threads for some mighty performance power.
The AMD Ryzen 7 1800X AMD's Ryzen Tech Day event in San Francisco, the fan boys are sure going to be elated. After many years in development, Ryzen is AMD's answer to regaining lost market share in the High-End Desktop Market which has been dominated by Intel for over a decade.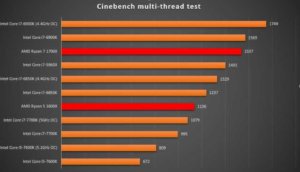 In the event, across multiple benchmarks showcased at the Ryzen Tech Day event, we saw the flagship Ryzen 7 1800X from AMD beating the Intel Core i7 6900K in multi-threaded applications. We would expect such a powerful processor which can beat the competition's $1089 CPU to be priced similarly or even within a modest 20% margin.
However, AMD has the Ryzen 1800X priced for $499 which is less than half the price of the competition. Currently, the price in India for the Intel Core i7 6900K is Rs.82,400 which is roughly post 14% taxation, if we would apply similar values, then the price in India for AMD Ryzen 7 1800X would be roughly Rs.38,000.
The prices here for the AMD Ryzen 1800X are just converted from USD to INR for representative purpose. We don't the final price in India yet.
Hopefully Ryzen can deliver, and we can get a real fight in the desktop market with different processors than Intel, which will be wonderful for Desktop PC fans all around the world. We will update this as we know more.