Computex is time for big players to launch something big and stay ahead of Competition. As part of this event, AMD unveiled new Ryzen Threadripper CPU along with its Ryzen Mobile range of processor.
Specifications of Thread Ripper CPU:
Based on companies Zen-core architecture,The new Ryzen Threadripper CPU is forthe High-end PC users. AMD showcased the GPU of this processor and its ability to effortlessly play graphic intense games at 4K resolution. The processor will feature up to 16 cores of 32 threads, and quad channel DDR4 memory. All models will have 64 PCIe 3.0 lanes for high-speed peripherals, up to four graphics cards.According to AMD, This chip can easily beat out the companies own high-end AMD Ryzen 7 CPUs.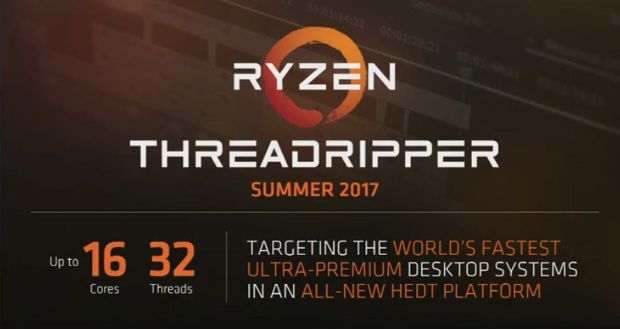 Although the AMD announced the CPU at Computex, it's Price and Clock speeds are not yet announced. The company announced the new CPUs would be shipping in this summer. While rumours say that it's pricing starts around $849, it needs to be confirmed by the firm.
While many visitors are also expecting the AMD's new Flagship GPU-Radeon RX Vega, the Company revealed that Frontier Edition for AI and deep learningwould be available on June 27th. The first commercial launch of Vega will happen at the SIGGRAPH event (Special Interest Group on Computer Graphics and Interactive Techniques) 2017 in California, on July 30.

"We believe we're bringing a new class of performance to the eco-system.Our message is these(CPU and GPU) will be an incredible combination of the real enthusiast-class performance" said AMD CEO Lisa Su during the Ryzen launch at Computex.
AMD also announced the Ryzen Mobile processor, specifically designed for portable notebooks that are less than 15 mm thick. Thin Notebooks with the Ryzen Mobile processor will come with four cores/eight threads and Vega-based GPU. Further, Laptops based on Ryzen mobile processors are expected to be launched by the end of 2017
At this venue, for AMD also teased some details on its upcoming Ryzen Momentum processor, aiming at the gaming community. Do this think AMD Ryzen has any chance in front of the i9 Processor?