The iOS 11 will be out in a matter of weeks and everyone is quite excited about it. The latest version of Apple's proprietary operating system will bring new features that it's users has been requesting for like years. And it's also worth mentioning that the latest update will kill almost 200,000 apps on the App Store. Why? Because Apple will stop supporting 32-bit apps with iOS 11.
When Apple introduced a 64-bit processor in the iPhone 5s in 2013, the company has since started to warn the app developers to update their apps to take advantage of the 64-bit processor.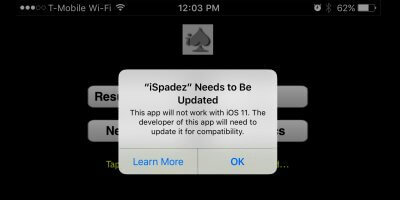 Earlier this year, users reportedly started getting warnings that their 32-bit apps will soon not be supported by their device when the iOS 11 comes out. Gizmodo also found out that the 32-bits apps starts disappearing on the Apple App Store. However, you can still download them when you have a direct link to the file.
According to Oliver Yeh, cofounder of app intelligence firm Sensor Tower, there are still over 187,000 32-bit apps laying around the Apple App Store. This means over 8% of all iPhone apps will not be compatible by iOS 11 when it comes out on September. Some of the apps that will soon not be compatible includes YouTube Capture, iSpadez, Neo Nectaris and Infinity Blade.
Don't freak out yet as you may still be able to keep the app unless you did not opted to update your iPhone to iOS 11, which is honestly a bad idea. iOS 11 will make your device up to date and secure with some bonus iOS 11 exclusive features and I wouldn't bargain that for an old 32-bit apps if I were you.
To check if you have any 32-bit apps installed on your device, you can go to Settings>General>About>Applications. If you have any of the soon to be outdated apps installed, your phone should be able to tell you.
But don't weep out as there are still some hopes left! If your beloved 32-bit app is worth an update for the developers, you may still see each other again. This time, on a new and secure platform. Well if not (maybe because it's only 32-bit compatible), you have an idea of the opposite.