Whatsapp has now over one billion active users, and it is the most popular messaging app right now. With Recent updates, Whatsapp added several useful features like support to send any file format, emoji search, creating GIFs, etc. Now let's see how to put these new features to maximum use.
Note: Few features require the latest beta version of Whatsapp. Users can signup for Whatsapp Beta testing using this link.
Create your own GIFs using Whatsapp:
Whatsapp has many inbuilt GIFs to use during the chat. Not only that, but Users can also create their own GIFs using Whatsapp built-in GIF creator. Let us see how to create your own GIFs from Videos using Whatsapp.
Open the Chat page, Click on attach icon and Select Gallery.
Search for the Video from which you want to create a GIF.
For the creation of GIF file, the video should less than 06 seconds. So Crop your Video using WhatsApp editor.
Move the video bar and select 6 seconds or lesser duration video from the selected video file. 
Then you can see GIF icon beside the Video icon in the Whatsapp.
Switch to the GIF icon and the preview of your GIF will be played.
Next click on the send button to send the GIF. Then the GIF will also be saved to your sent items folder.
Now use any File manager and navigate to your Whatsapp folder.
In the location, you can find your Sent GIFs. Whatsapp>> media>> Whatsapp Animated GIFs>> Sent.
New Whatsapp Shortcuts
Requirements: Beta version and launcher support required
Remember the app shortcuts feature, Google introduced with Android Nougat 7.1? Whatsapp has included few app shortcuts for quick use in the latest beta update. However, users need a launcher with support for app shortcuts for this to work. Don't worry! Many popular launchers like Nova, Action launcher, etc. already have support for these app shortcuts feature. Alternatively, users can try stock pixel launcher.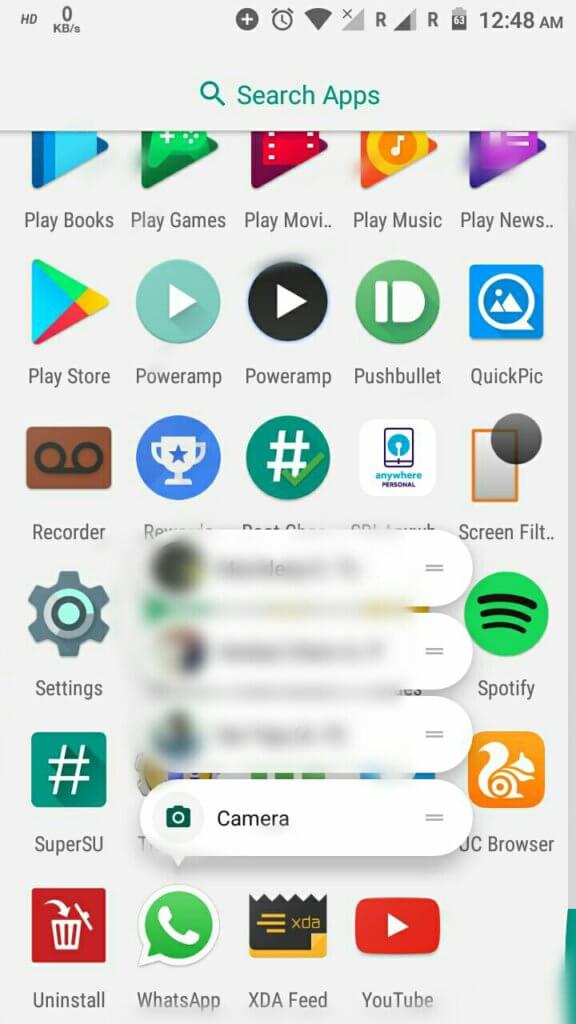 Install a suitable launcher.

Press and Hold the Whatsapp icon on the home screen.

Now you can see new app shortcuts like starred messages, recent chats, etc.
Suggested: How to add "Quick Shortcuts" feature on any Android (No Root)
New fonts for adding text to images
Requirements: Latest beta update required
With the recent beta update, Whatsapp has added few new fonts for editing and adding text on the pictures. Check out them by going to the Font section while editing your next image.
Whatsapp emoji search:
Now users can search the emoji 's using the search function and proper keywords. Follow our example below.
Open the chat page and click on the search bar on the bottom left.

The search bar type ' bye' to get 'bye' emoticon.

Similarly, you can try many keywords like a laugh, cry, etc.
How to send any file format using Whatsapp:
Open the chat page, 

Click on the attach icon and Select document.

Click on Browse other documents option.

Now select the storage and browse to your file.

Select the required file and accept the confirmation.
Note: The screenshot above shows sending a zip file, users can send any type of file they want. Ex: Apk, Rar, PSD, etc. The limit of file size is 100MB.
Whatsapp is also working on many other features like recall option, UPI payments, which are expected to release soon. We will keep you up to date, once these are made official. Follow us for more updates.