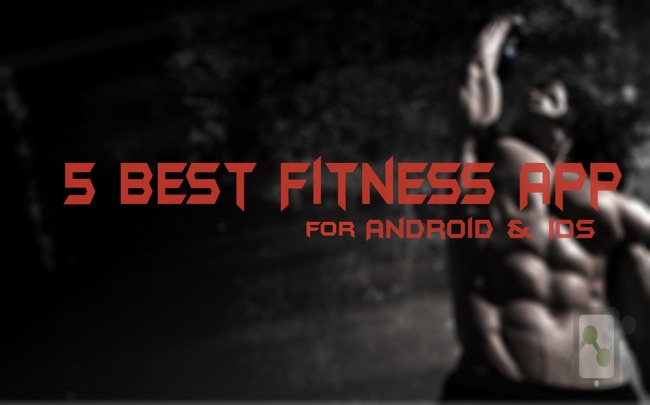 If you are a lazy guy, who joined a Gym or Professional health trainer but can't motivate yourself enough to go there regularly. Well, there is a simpler and exciting way to enjoy your exercise and health. Our Smartphones can do lot more than what you are using it for. It can actually act as your workout partner without costing your anything, because its completely free. Although there are many fitness Apps listed on Appstore and Playstore. Half of them just provide you with wrong calculations or isn't much developed. We'll take a look at five of the most popular and accurate Fitness Apps for Android/iOS.
Top 5 Best Android, iOS Fitness/Health Apps
1. C25K by Rundouble:
Its a Free Android/iOS App and one of the most accurate App. If you are unsure about from where you should start. C25K by Rundouble is the perfect App to motivate you & help you in your workout. After installing, the App asks to enter your weight before starting the run. Based on your weight, it shows you the workout plan for nine weeks. You can choose the appropriate session as per your comfort. It has an advance voice tutorial to guide you through the run. It starts with a five minute warm up followed by eight repetitions of 60-second running and 90-second brisk walking. There is also a five minute cool-down walk. This keeps on increasing after regular interval, to improve your stamina & keep you fit. There is also an option to choose a plan, which includes fun run, couch to 5k, 10k Stater plans,improver and event plans.
2. Six Pack In 30 Days
Its a Free Android/iOS App.Moves, The app gives you a set of exercises that you have to follow for 30 days. The app has 3 levels which are beginner, intermediate and expert. These 3 levels of workout plans help you lose belly fat and build abdominal muscles step by step. Whether you are a beginner or a pro, you can find workouts that are suitable for you. Different exercises are prepared every day to keep it fresh and exciting. Beginners have easier exercises to follow for starters while gradually increasing the level of difficulty. The program in the app also gives you a break every 4th day, to rest you muscles therefore allowing them to recover.
3. Firstrun
This App is pretty much similar to C25K, this app also asks you to select a programme to start with.  It has two training sessions – 5K and 10K. The 5K session will train you to run 30 minutes non-stop in nine weeks. It includes 27 sessions that one has to practice thrice a week for nine weeks. The 10K session will train you for 65 minutes of non-stop run spanning over 12 weeks (four times a week) with 48 sessions.
Once you select the session, you can start running. For the first session, the running time is 28:30 minutes, including 20:30 minutes of walking and eight minutes of running. The app also shows the distance you have travelled and you can even pause the session. There is also a treadmill mode that you can activate. It has a very neat interface which feels pleasant to eyes & motivates you.
4. Google Fit
This is the most well known App for Fitness by the Tech giant, Google. It is capable of tracking your walk, run or even cycling, the Google Fit app works across your phone, computer or even an Android Wear smart device.
By default, the app has put up an hour of workout as a goal. This, however, can be changed through the settings. If you wish, you can also key in your weight and height. It tracks your daily activity, progress towards the goal and weight. The app automatically tracks the activity, compiles it at the end of the day and even measures it against the set goal. And if by any chance you are using an Android Wear device, it will track the data and sync it with the app.
Sorry mate ! But, this App is only available for Android platform. You can try the above Apps
5. Pedometer And Step Tracker
Its a Free Android/iOS App. It shows you the number of steps you have taken, the number of calories you have burnt and also shows you the route you take during your exercise. The App counts your daily steps with the built-in sensor, which greatly saves battery. It records steps accurately even when the screen is locked, whether your phone is in your hand, your pocket, your bag, or your armband. The App also allows you to set targets that you want to achieve and has high rating in both the Play store and App Store.
Now, you don't have to worry about spending few dollars for a physical trainer. But, In the beginning, everyone are all pumped up about fitness, but the motivation level tends to go away soon after. Hopefully, this won't be the case once you start using these apps.