So, you've rooted your Android phone few days ago and now looking for the best apps for rooted Android Phones, then don't miss to read this article. When it comes to root Android phone, instructions for rooting your device are all over the web. But you will hardly find articles about apps which can be used on your rooted Android phone. After rooting your device you can improve android battery life, eradicate bloatware, get your Android work better. You can also customize the systems for the best performance as compared to a phone that has not been rooted by installing Android Apps that require Root Access.
In this article I'm going to share some of the best apps for Rooted Android Phones in 2018. It's true that rooting your device has become far less essential these days than the days of old but there are still plenty of reasons to root your device. You won't be installing awesome mods over recovery so much anymore but there are a handful of root apps that have maintained their reliability and usefulness even in this age of non-root.
Top 10 best Root Apps for Rooted Android 2018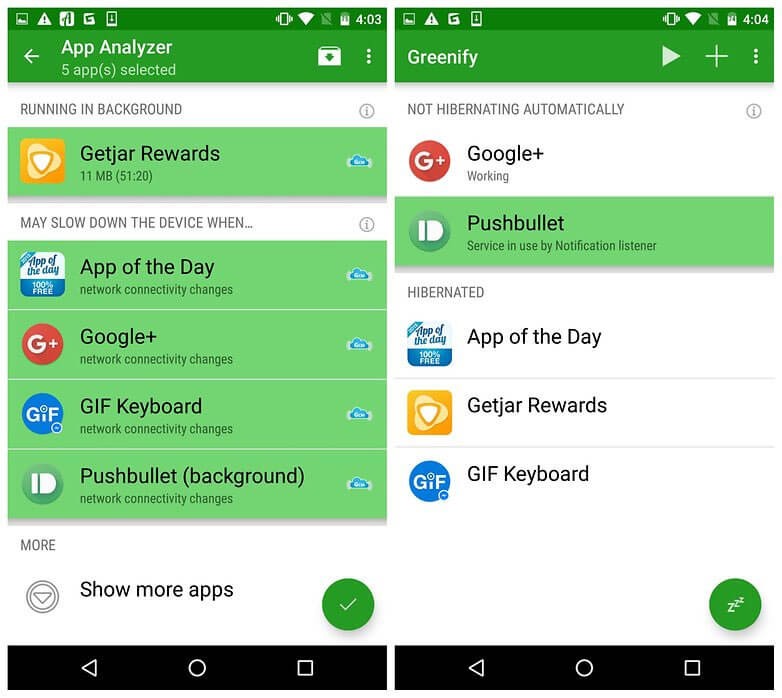 Its a good application to make your Android device more faster & smooth by hibernating the background apps that you don't use. This increases the battery life of your phone. This application is free.Greenify help you identify and put the misbehaving apps into hibernation when you are not using them, to stop them from lagging your device and leeching the battery, in an unique way! They can do nothing without explicit launch by you or other apps, while still preserving full functionality when running in foreground, similar to iOS apps!
Unlike the "Freeze" feature in "TitaniumBackup Pro" that totally disable the app, you can still use your app as usual, share content with it. No need to freeze & de frozen it.
Unlike "Autostarts", you can benefit from almost all of its advantages, without needing to deal with the complexity and risk of obscure app components, and never lose functionality when app is actively running.
Unlike any "XXX Task Killer", your device will never fall into the cat-mouse-game of stealthy-running and aggressive killing, which unnecessarily consumes more battery juice.